Exuding an aura of sophisticated style, this classy Ferragamo women's watch is the perfect choice for every day and evening wear. Its high quality, durability and accuracy make it a piece you're sure to enjoy for many years to come. Encased in stainless steel, its brown sunray dial creates an elegant and neat appearance with gold indices, a date window in the 3 position, a minute track and a second hand. A gold IP Gancino shaped bezel surrounds the dial. Its two tone stainless steel bracelet comfortably closes with a butterfly buckle for safe and secure all day wear.
Material
Case Material

Steel Ion Plating 4N

Front Case Bezel Material

Rose Gold/Stainless Steel

Bracelet Material

Steel Ion Plating 4N
Design Details
Water Resistant

30m

Movement

3 Hands Quartz

Weight

135
Color
Bracelet Color

Rose Gold and Stainless Steel

Dial Color

Brown
Size & Fit
Collection
Item Reference
FF329 0016
For optimal watch operation, we advise following these instructions for use:
• Automatic watches should be checked by an authorized service center every 3-4 years.
• The battery in quartz watches has a maximum life of two years. To prevent damage to the internal components, you should have it replaced at an authorized service center a little before the end of this period.
• After immersion in salt water, rinse the watch with fresh water and dry completely.
• Make sure the watch is not exposed to very high temperatures (saunas, steam baths, etc.), which could damage the seals.
• Avoid violent blows or contact with corrosive substances or surfaces that could could scratch the watch.
WATER RESISTANCE
• The watch is water resistant thanks to a series of seals that deteriorate due to wear. For normal watch use, we therefore recommend checking water resistance at least every two years.
• If the watch is used in underwater sports, this check should be performed annually. Do not operate the crown or chronograph pushers when the watch is wet because water could enter the movement and damage it.
All Ferragamo watches are water resistant. The level of water resistance is indicated on the case back after the words "Water Resistant", but the recommendations below should be followed:
EXTERNAL CLEANING
• We recommend washing your Ferragamo watch (apart from the leather strap) in warm, soapy water with the help of a soft brush. Rinse carefully with fresh water and dry with a soft, dry cloth.
• For leather or fabric straps, avoid contact with water, fragrances and chemical substances.
DISPOSAL
• The authorized service center that replaces the watch battery will also dispose of it pursuant to local legislation. Your watch must not be disposed of with domestic waste, but taken to an authorized collection point.
• This helps protect the environment and human health.
SERVICE CENTERS
• The list of authorized service centers is published on the website www.ferragamo.com
This Salvatore Ferragamo watch was manufactured in Switzerland according to the highest quality standards of the Swiss watchmaking industry. The watch is covered by an international guarantee from Vertime B.V. for a period of 24 (twenty four) months from the date of purchase, in compliance with the conditions established by this warranty. The warranty may be extended from two to four years by registering on the website www.ferragamo.com
The warranty is valid on condition that your watch was purchased at an authorized Salvatore Ferragamo dealer and that the warranty certificate has been duly completed in full, signed and stamped by the dealer. This warranty covers any manufacturing defects existing at the time the Salvatore Ferragamo watch was sold.
The warranty does not cover:
• The strap or bracelet, the battery and the glass
• Damage caused by accidents and improper use of the watch
• The theft or loss of the watch
• Damage caused by wear and all direct or indirect damage caused by the aforementioned circumstances.
Any work on the watch must be performed at a service center authorized by Vertime B.V. using original spare parts; unauthorized repairs invalidate this warranty. For maintenance or repair, contact the dealer where the watch was bought or one of the authorized service centers published on the website www.ferragamo.com
No one is authorized to change the terms of this warranty. Every other form of warranty offered by dealers is their direct responsibility.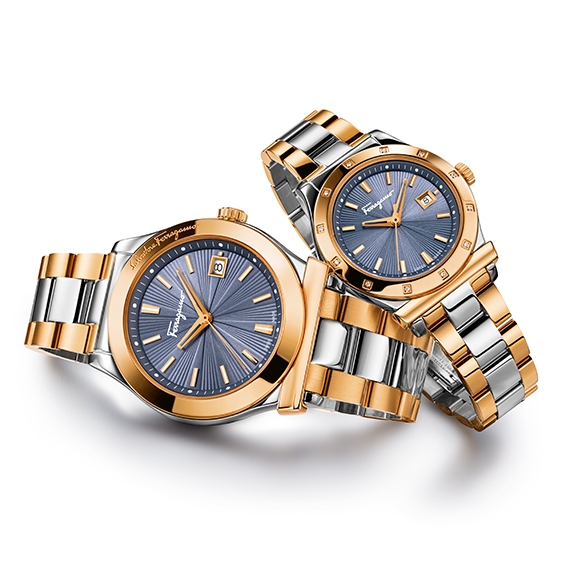 1898 Collection
Featuring top performance and a high profile sporty look, Ferragamo 1898 Sport is the perfect expression of modern design combined with the excellence of Swiss watchmaking.
Perfect to measure sporting performance with style, Ferragamo 1898 Sport is presented in a palette of colours that draws its inspiration from nature - earthy rust, grass green, night sky navy blue - alongside essential black
Discover More
Who Viewed This also Viewed