Attractively poetic, this 56 cm long steel chain captures a stainless-steel ring with rose Gold PVD sealing a 2mm steel wire. Like a souvenir, a secret or an oath slipped into the hollow of the neck, this slim ring, of simple and pure design pays tribute to the cradle of the Svart line's sources of inspiration: the beautiful meeting of the Art of living the Difference and the spirit of the times. And the purity of a both indomitable and peaceful nature. To the rhythm of Charriol's seasons, the freedom to be oneself, to savor the little pleasures that the time which passes offers, are sources of inspiration that have given birth to a new collection of jewelry inseparable from an authentic art of living marked by simplicity, authenticity and the sense of essential. A natural osmosis that goes off the beaten tracks and is ... so Charriol.

Category

Collection
Collection

Forever Slim Svart

Color

Material
Material Color

Steel Rose Gold PVD

Main Material

Stainless Steel/Steel Cable 2mm

Stone Type

White Topaz

No. of Stone

5

Carat Weight

0.20 CT's

Size & Fit
Reference Number
08-102-1139-21
Since jewellery is a delicate and refined item, it should be worn and handled with care. Many daily substances contain chemicals which could cause damage to your jewellery. Take off your jewellery while putting on cosmetic, playing sports or cleaning with chemicals. Avoid direct contact with hard objects.
• Simply rinse the jewellery piece with a soft brush in cool water (never use hot) and lay them out to dry on a towel or with cool air by a hair dryer.
• Even though the cable has a flexible design, do not over stretch it against opposite direction or stretch it in a certain position for a long time.
• Gold-plated and silver parts of the jewellery are not solid gold items, their colour would be subject to natural oxidation and change of weather and become tarnished or colour fading after certain duration of use or storage. The colour of the gold-plated, black-plated and silver parts could tarnish subject to human sweat.
CHARRIOL offers a full statutory warranty for pieces purchased from authorized Charriol retailer. The warranty covers manufacturing and material defects due to normal wear and use for a period of one year from date of purchase.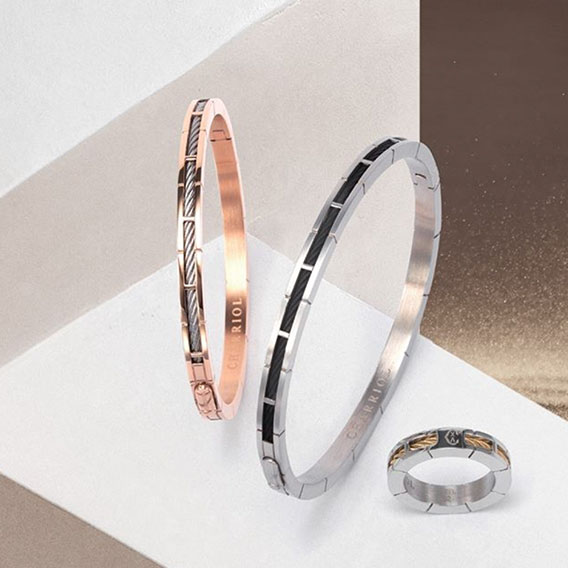 FOREVER SLIM SVART COLLECTION
Elegance resides in simplicity, which is what distinguishes these designs that combine art with simplicity. A collection of stainless steel and gold represented by the circle that symbolizes infinity, and is a source of inspiration for the Svart line.
The combination of living the difference and the spirit of the times that bears the imprint of Charriol House designs, the freedom to be yourself, are the sources of inspiration that gave birth to a new group of jewelry that is inseparable from the original life art that is characterized by simplicity, originality and style ... Charriol.
Discover More