This stunning and ornate pair of yellow gold-plated silver earrings features our signature stainless steel twisted cables strung together and decorated with organic circle motifs. Four precious white topaz stones add sparkle to the design, making it come alive with youthful femininity. Mimic the fashion-forward stacked effect in luxurious style.

Category

Collection

Color

Material
Material Color

Steel Gold Plated

Main Material

Silver Stainless Steel 2mm

Stone Type

White Topaz

No. of Stone

4

Carat Weight

0.16 CT's
Reference Number
03-124-1220-5
Since jewellery is a delicate and refined item, it should be worn and handled with care. Many daily substances contain chemicals which could cause damage to your jewellery. Take off your jewellery while putting on cosmetic, playing sports or cleaning with chemicals. Avoid direct contact with hard objects.
• Simply rinse the jewellery piece with a soft brush in cool water (never use hot) and lay them out to dry on a towel or with cool air by a hair dryer.
• Even though the cable has a flexible design, do not over stretch it against opposite direction or stretch it in a certain position for a long time.
• Gold-plated and silver parts of the jewellery are not solid gold items, their colour would be subject to natural oxidation and change of weather and become tarnished or colour fading after certain duration of use or storage. The colour of the gold-plated, black-plated and silver parts could tarnish subject to human sweat.
CHARRIOL offers a full statutory warranty for pieces purchased from authorized Charriol retailer. The warranty covers manufacturing and material defects due to normal wear and use for a period of one year from date of purchase.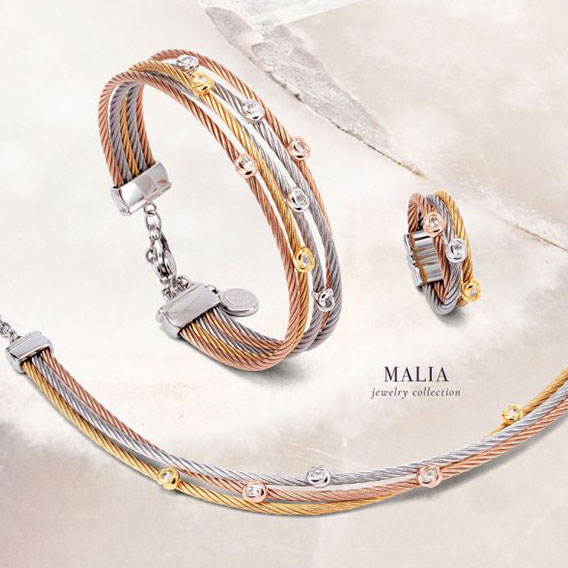 MALIA COLLECTION
Named after art director Coralie Charriol-Paul's traditional Hawaiian name, 'MALIA', which means attractive and beautiful, the collection does not disappoint. In an update to the range, we return to the stunning island of Hawaii and find inspiration in the frangipani flower.
The collection features a series of Charriol's signature stainless steel twisted cables, decorated with pretty frangipani motifs. A youthful and happy creation, which mimics the fashion-forward stacked effect.
Discover More