With a love of style, beauty and fashion, it is fitting that CHARRIOL have named a women's watch collection, St-Tropez, after the glamorous French Mediterranean town. The 028 variant represents the collection's medium-size model (24.5mm). Take a sun-kissed trip to the French Riviera with our much-loved ST-TROPEZ watch collection. Delightfully feminine, this pretty Swiss-made quartz timepiece features our signature braided cable motif on the strap, alongside an additional chain bracelet to add a unique jewelry accent to the design. Full of elegance and sophistication, it is crafted in yellow gold plating and stainless steel with a white mother-of-pearl dial, decorated with similis crystals. A quintessential ladies' watch, epitomizing Charriol's artistry and style. The size can be adjusted to find the perfect fit and the strap features a hypoallergenic finish.

Collection
Collection

St-Tropez Watch

Movement

Dial
Dial

White Mother of Pearl

Glass

Sapphire Scratch-Resistant

Dial Size

24.5MM

Special

12 Similis

Band
Band Material

Stainless Steel Chevron Cable

Band Color

Silver

Case
Shape

Round

Case Size

24.5MM

Case Color

Rosegold

Water Resistance

30 M

Back Case Material

Stainless Steel

Bezel Material

Stainless Steel

Item Reference Number
028RP-540-326-16
Water-resistant models have been stringently tested. However, the seals that ensure water-resistance may deteriorate with age and lose their effectiveness. We therefore recommend that you have your watch checked for water-resistance every two years. Average battery life is 2 years and the date printed on the sticker on the back of the watch-case is the expiry date.
• We recommend that you have the battery and the water-resistance seals replaced by an authorized CHARRIOL Technical Service Centre in order to ensure your guarantee remains valid.
• After swimming, particularly in sea water, we recommend rinsing any water resistant watch well in fresh water and wiping it with a soft, clean, dry cloth. This will help keep it looking good and in perfect running order.
• Gold-plated and silver parts of the watch are not solid gold items, their colour would be subject to natural oxidation and change of weather and become tarnished, or colour fading after certain duration of use or storage. Avoid scratching with hard objects, it may cause the product to lose its shiny surface or to speed up oxidization. Many daily substances contain chemicals which could cause damage to coating on your watch. Take off your watch while putting on cosmetic, playing sports or cleaning with chemicals.
• Charriol cable watch band has a flexible design and unique memory form to keep its original shape intact, nevertheless do not over stretch it against opposite direction or stretch it in a certain position for a long time.
• Your CHARRIOL watch is guaranteed under normal usage against all defects in workmanship and materials for a period of 2 years from the date of purchase - provided the watch was purchased from an authorized CHARRIOL dealer and the Guarantee booklet was correctly filled out by your CHARRIOL dealer including the date of purchase, serial and product model numbers, and the dealer's signature with name and location.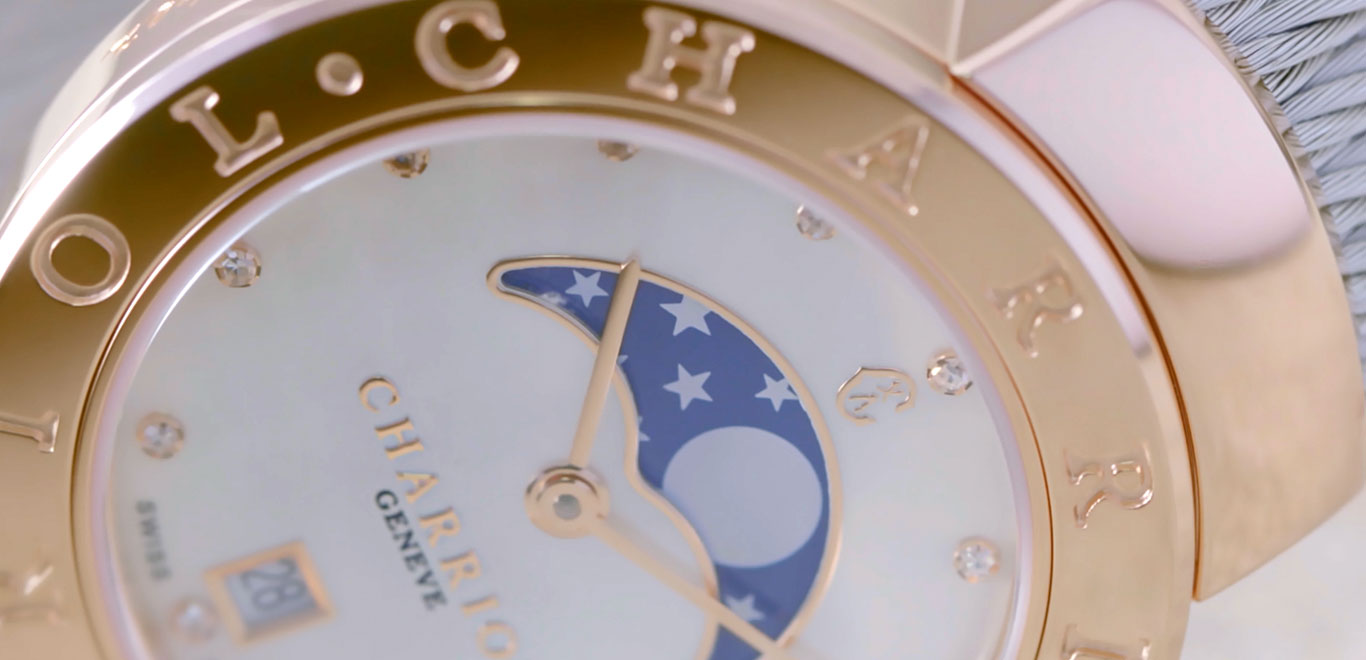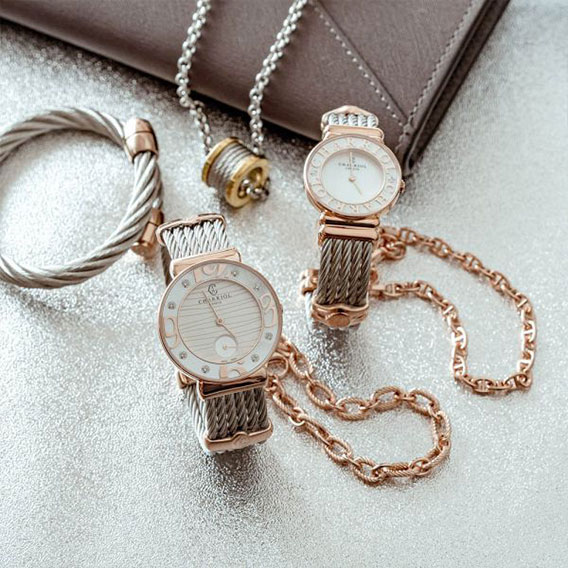 ST. TROPEZ WATCHES
CHARRIOL has enriched the hugely successful ST-TROPEZ collection with a host of dazzling new additions.
The latest watches have been expertly crafted using innovative techniques, on-trend color combinations and new silhouettes, yet remain true to the key design elements of the ST-TROPEZ line: the signature CHARRIOL cable strap and delicate chain bracelet.
Discover More