Versace V-CHRONO VEHB00619 is an amazing and handsome Gents watch. Material of the case is Stainless Steel and the Black dial gives the watch that unique look. The features of the watch include (among others) a chronograph. In regards to the water resistance, the watch has got a resistancy up to 50 metres. It means it can be submerged in water for periods, so can be used for swimming and fishing. It is not reccomended for high impact water sports.
Material
Case Material

Steel Ion Plating Black

Front Case Bezel Material

IP Black

Back Case Material

Steel

Bracelet Material

Stainless Steel

Lens Glass

Sapphire

Dial Material

Brass
Details
Buckle Type

Butterfly

Case Finish

Brushed/Polished

Case Back

Screws

Crown Type

Crown Push

Water Resistant

50m

Movement

Chrono Quartz

Weight

120
Color
Case Color

Stainless Steel

Bracelet Color

Steel/Yellow Gold

Dial Color

Black
Size & Fit
Bracelet Length

168 mm 22/18 mm

Case Diameter

44 mm

Case Thickness

11.90 mm
Collection
Item Reference
VEHB0 0619
• SERVICING
To ensure your watch keeps functioning for many years to come, follow carefully the instructions contained in the manual and have your watch serviced every 3-4 years by a VERSACE Boutique, an authorized dealer or a VERSACE assistance centre.
Only VERSACE Boutiques, authorized dealers and VERSACE assistance centres are authorized to service your watch.
Assistance centres are regularly trained by the fashion house, ensuring high quality of service. Any repair not carried out at a VERSACE Boutique, an authorized dealer or a VERSACE assistance centre shall not be covered by the International Warranty. The same applies to the use of spare parts not complying with the criteria specified by VERSACE.
• WATER RESISTANCE
The water resistance of your VERSACE watch is guaranteed by a series of gaskets that are subject to deterioration with wear and tear. Therefore, it is important to check your watch for water resistance every two years. In the event of using your watch during underwater sports activities, this should be done every year.
Never handle the chronograph's crown and buttons when the watch is wet as water could filter into the case and damage the movement After bathing in salt water, rinse the watch with fresh water and dry it thoroughly.
Do not expose the watch to high temperatures (sauna, Turkish bath, etc.) as this could damage the gaskets.
All VERSACE watches are water resistant. The degree of water resistance is engraved on the back of the case, following the inscription "water resistant".
• EXTERNAL CLEANING
Wash your VERSACE watch in warm soapy water, using a soft brush. Rinse carefully with fresh water and dry with a soft dry cloth. Do not dry the strap on a hot surface or directly in the sun as the rapid evaporation of water could damage its shape and quality
Your Versace watch is internationally warranted by Vertime B.V. for a period of 2 years from the date of purchase. You can extend the warranty to four years here: http://www.versacewatches.com/storelocator/Register_Warranty.aspx
The warranty excludes:
• The bracelet, battery and glass
• Damage stemming from improper use of the watch
• The loss or theft of the watch
• Damage caused by wear
All direct or indirect damage caused by the circumstances mentioned above.
Any repair work on the watch must be carried out by a service center authorized by Vertime B.V. using original parts. Any intervention by an unauthorized repairer renders this warranty invalid.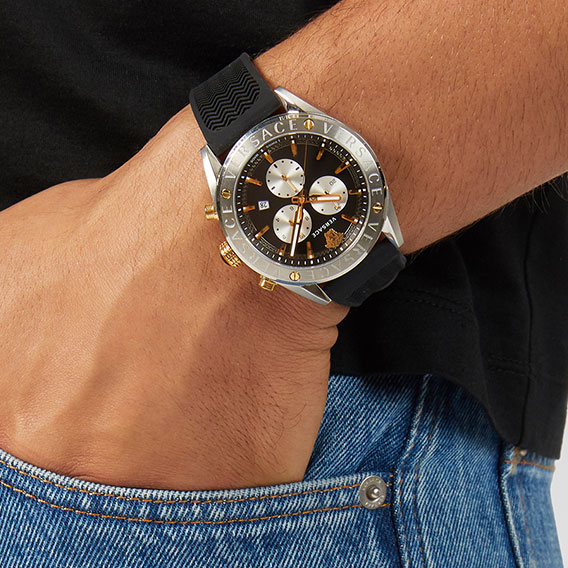 V-CHRONO Collection
A classic watch with a contemporary detail - the V-Chrono boasts a black dial enriched by the Medusa and three counters. The top ring is enriched with the Versace logo. The timepiece features a strap embellished by a textured pattern.
Discover More
Who Viewed This also Viewed