From the first-generation models launched in 1998, the Bvlgari Aluminium watch has redefined what a luxury sport watch can be. Made from completely unexpected materials, today's iconic timepiece boasts the same pioneering allure of the original watch, speaking a universal language that goes far beyond gender, age, trends and eras. Simple yet striking, Bvlgari Aluminium keeps approaching the watchmaking world with a boldness and strength that feels refreshing and incredibly modern.

Case Diameter

Case Material

Dial Color

Bracelet Material

Bracelet Color

Buckle Type

Functions

Movement

Water Resistance

Additional Details

Gender

Collection

Item Reference: 103383
•Avoid exposing your watch to extreme heat or sudden changes in temperature or humidity (sauna, Jacuzzi, hot springs, etc.).
• Protect your mechanical watch from magnetism by keeping it away from strong magnetic sources, such as microwaves, x-rays, speakers, etc.
• Avoid forceful impacts; it is not recommended to wear your watch while playing any sports that may cause any shocks or jolts to the wrist (such as golf or tennis) unless your watch is intended for sports use.
• After adjusting the hour/date on a piece with a crown security closing system, the crown must be tightened again to prevent outside elements from entering the case such as dust or humidity. To prevent damage to the movement, avoid adjusting the date between 9PM and 3AM so as to not disrupt the date wheel function.
• Bring your quartz watch to a Bulgari Store when the battery needs changing. The average lifespan of your battery is two to four years depending on the type of movement. We advise you not to leave an old battery inside your watch as an old battery can leak and damage the movement.
• Before any contact with water, check that the crown and push buttons are properly closed. Do not activate any mechanical features while your watch is underwater unless your piece is designed for water sports or scuba diving.
• Water resistant watches should be washed with running lukewarm water after contact with seawater or chlorine. Watches that are worn in water should be checked for water resistance every two years to ensure the gaskets have not been compromised. Avoid contact with Fragrance, alcohol, cosmetics, ammonia and chlorine and always place your watch on a soft surface.
• If you wish to change your bracelet, we invite you to come to one of our Trafalgar Store and to choose from our selection of finely crafted leather straps and metal bracelets.
For the purchase of any new Bulgari timepiece you will receive a digital warranty card. The Bulgari warranty is valid for two years from the date of purchase. It will be registered in the Bulgari network and accessible and honored worldwide from any Bulgari boutiques. The digital warranty card guarantees the purchase date and authenticity of a timepiece and covers all manufacturing defects. This warranty does not cover normal wear of the case, metal or leather watchband, crown and glass. It is not valid in case of loss, theft, improper use, negligence or attempts to repair by unauthorized persons.
• 2 Years.
• You should keep your digital warranty card as you would keep your warranty booklet. Using a QR code or NFC reader on your digital warranty card, you will access detailed information on your watch and user manuals.
• The digital warranty card will be activated through our E-Commerce Center before it is shipped with the timepiece. For timepieces purchased prior to the launch of the digital warranty program, the warranty booklet is still valid.
• If the card is lost or for any other issue, please contact one of our Bulgari Boutiques or contact our Customer Service team.
We are pleased to let you know that you can personalize this item by engraving it. You can reach out to us in one of the following ways:

1. Contact our personal shoppers +96596032263
2. Visit your nearest Trafalgar store via the boutique locator
For any further information, you can contact our customer service at 1881188 or via e-mail at customercare@itsluxury.com. Terms and conditions apply.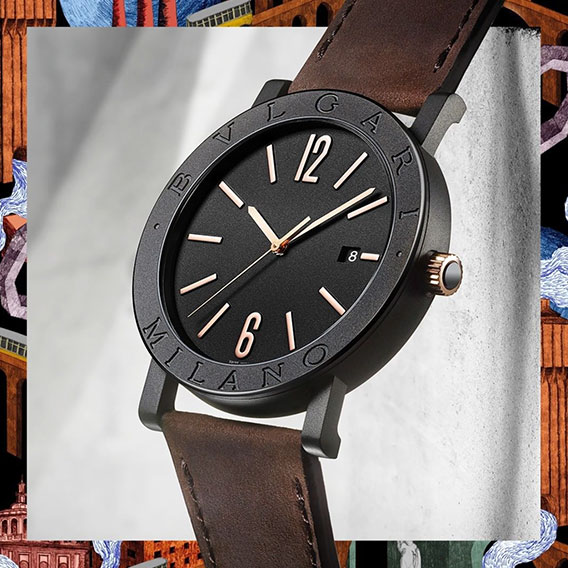 BVLGARI BVLGARI COLLECTION
A unique encounter of urban spirit, dynamic design and contemporary art, each BVLGARI BVLGARI City Edition watch is inspired by one of nine cities iconic to Bvlgari and comes with a set of twelve unique art prints.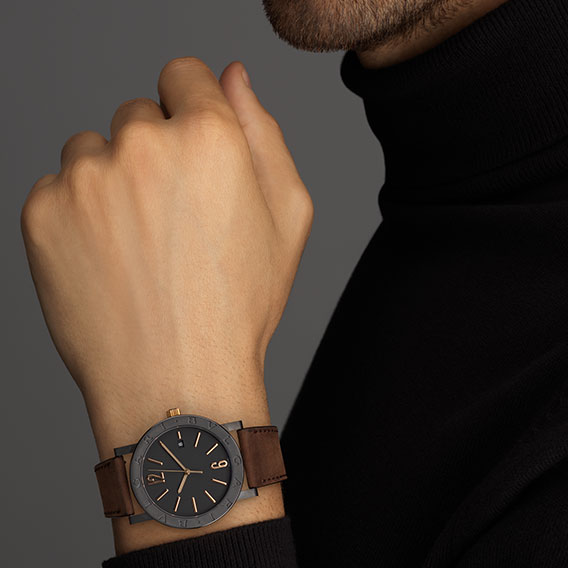 First debuting in 1977, in response to enthusiastic demand generated by the provision of the BVLGARI ROMA model to the Maison's hundred best clients, the BVLGARI BVLGARI watch's original design was deeply rooted in the brand's Roman history telling a story made up of architecture and Italian art.
Discover More